In ancient times palmistry and astrology were secret sciences. If we combine them with modern spirituality and psychology, we'll get a medium, which makes deep personal insights possible. It tells us how to live in harmony with the cosmic rhythms. For that reason the combination of hand reading and occidental astrology is my special subject.
Palmistry and astrology complete each other in an extensive way. It shows your weak and strong sides, as well as important events in your past life and future developements. This knowledge helps you to do the right thing at the right time.

Palmistry and astrology shouldn't suggest decisions to someone. They should help you to make decisions in an intelligent way.

You'll find more about astropalmistry and how to work with it in my book (in German): "Hand und Horoskop - Was Handlesen mit Astrologie verbindet". References to it and information about my articles are in... publications

The part entitled Basics contains two articles:
I.: From palmistry to a revised chirology
II: Dominant planets in hand and horoscope.

If you are interested in a personal consultation, click on... consultation. Events and lectures are posted under... calendar . Vita gives you more information about myself.
There are different ways to use palmistry (chirology) and astrology. I work with them as a very practical way for self-knowledge and to understand certain situations or developments that point to the future.

Palmistry (Chirology ) and astrology complete each other perfectly, as a characterology and for a better understanding of one's own biography. They help you to live consciously and to do the right thing at the right time.

Your request is in the center of my consulting. Your themes may be: Your individuality, relationship, profession, a special crisis, preview of the coming year and perspectives of the future.
Manfred Magg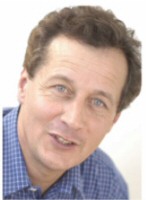 I came to palmistry because of spiritual interests and questions about left-handers. More than 30 years ago I started to examine hands. I was trained in handreading by:

Rita Issberner-Haldane (D) in Chirosophy and medical hand- and naildiagnosis,
Gertrud I. Hürlimann (CH) in Astro-Chirology,
Louise Kirsebom / Johan Hjelmborg (DK) in Astro-Chirology,
Richard Unger (USA) in handanalysis,
Vinday Aditya (Ind.) in vedic palmistry.


I was trained in astrological consulting with Ernst Ott and Eva Stangenberg (Karlsruhe), In 1995 I pass the examination of the German Astrologers Association. Then I opened a consulting bureau combining handreading and astrology.
VITA:
2018 Guest lecturer at the Chengdu Waldorf School, Training Center, (PRC)
2017 ZDF television broadcast about astrology
2009 Master Hand Analysis - a year long course with Richard Unger
2008 Analysis of B. Obama hand in the weekly journal "Bild am Sonntag", 2008-08-10
since 2006 Member of the advisory committee of the German Astrologers Association (DAV)
2004 Delegate of the forum "Astrology and Ethics", World Congress Astrology Bale / Swiss
2002 My book "Hand und Horokop" was published.
1995 certified Astrologer of the German Astrologers Association
1983 started with classical handreading
1979 - 2017 Class teacher Waldorf teacher
1979 Graduated at the Waldorf Teachers College in Stuttgart
1975 Diploma engineer of physical engineering
Born in Stuttgart, Germany
Topical Artikles (nearly all in German) :
"The Hand of Hope" ("Die Hand der Hoffnung") 
An interpretation of  Barack Obamas hand in the weekly journal Bild am Sonntag issued on 10th August 2008, Hamburg.
"Reading the hands of the chancellor and his challenger"
Gerhard Schröders and Angela Merkels Hand and Horoscope, Nr.:116, August/September 2005 of ASTROLOGIE HEUTE - Magazine for Astrology, Psychology und Themes of the Future, Zurich, www.astrologieheute.ch
"Tony Blairs hand and horoscope" - ASTROLOGIE HEUTE, Nr.: 115, June/July 2005
"Stars, gems, hands, rings, - "Sterne, Steine, Hände, Ringe"
Four articles about the relationship between the zodiac, gems, the elements, planets, fingers and references to charms and rings. It begins with the July/August edition 2004 of Meridian, a professional magazine for astrologists. www.meridian-magazin.de
"Leni Riefenstahl and the might of pictures"
An article about the director, who made the well known NS-propaganda film of Reichsparteitag 1934 at Nürnberg on Adolf Hitler's instructions. Included are reproductions of her right hand, her birth- and dying chart. - November/December edition 2003 of Meridian, Freiburg. Further information: www.meridian-magazin.de
"Dominante planets in hand and horoscope" (the English translation in basics)
A description, how to find out the most important element and planet in one's hand in an easy way. Under:www.sternwelten.at, astrology internet pages, Juni 2003, Wien.
"Filmkunst, Chirologie und Astrologie: Josef von Sternberg - Schöpfer des Marlenemythos"
An article about the director, who made of Marlene Dietrich an international film star, including a photo, a print of his hand and his birth chart; March/April edition 2003 of Meridian - Fachzeitschrift für Astrologie, Freiburg/Br.
Subcategories